With the ATX 3.0 era well underway, we've been looking at the first generation ATX 3.0 power supplies on the market. ATX 3.0, which introduced a 16-pin 12VHPWR connector capable of delivering up to 600 watts of power to PCIe cards, marks the beginning of a gradual shift in the market. As the power consumption of high-end video cards continues to increase, the power supply manufacturer is working to keep up with these trends with his new generation of PSUs. It better handles the large fluctuations in power consumption that these cards experience.
As a second ATX 3.0 power supply, I'm considering the Hydro G Pro ATX 3.0, a unit from the FSP group. Unlike some of the other ATX 3.0 PSUs we've considered (and plan to consider) so far, FSP has taken a slightly different approach with its first ATX 3.0 units. FSP has upgraded its most popular platform, the original Hydro G Pro. So the new Hydro G Pro ATX 3.0 1000W PSU doesn't have particularly impressive specs on paper, but it boasts excellent all-around performance at an affordable price ($199 MSRP). So in an era when most ATX 3.0s are subject to an early adopter tax, FSP's platform is worth noting. FSP is clearly aiming to attract mainstream users who may not need an ATX 3.0 PSU right now, but would like to own one in case of future upgrades.
Power Specifications (Rated @ 50 °C)




AC input

AC100-240V, 50-60Hz




rail

+3.3V

+5V

+12V

+5 Vsb

-12V




Maximum output

20A

20A

83.3A

2.5A

0.3A




120W

1000W

12.5W

3.6W




total

1000W




Manufacturer's suggested retail price

$199









As true OEMs (Original Device Manufacturers) who design, develop and sell their own PSUs, this kind of iterative strategy has been seen in FSPs before and has traditionally worked well for them. For example, almost nine years have passed between the review of the Aurum PT series and his new Hydro PTM series. As is the case with the Hydro Pro G, FSP likes to develop proven designs that can serve consumers and his OEMs downstream alike for years to come. All of this means that when FSPs update or overhaul their platforms, they do so for very good reasons and usually need to be careful.
packing and bundling
The FSP Hydro G Pro ATX 3.0 1000W PSU comes in an impressive cardboard box with an extra cardboard ribbon around it. The box is very sturdy, with additional packing foam slabs and nylon bags inside to protect the unit from damage during shipping. A wealth of information about the unit and its new PCIe 5.0 12WHPWR connector can be found on every side of the box. This is very useful, especially for brick-and-mortar customers, so you can avoid confusing this his PSU with his PSU. Original (non-ATX 3.0) Hydro G Pro.
Inside the box is a bare-bones accessory bundle. This is a notable choice considering this is for her PSU at the flagship level. All they provide is a simple AC power cable, four mounting screws, and a basic manual. Two sets of side stickers, green and red. The blue set is already glued to the unit. These stickers are permanent and cannot be removed without damage.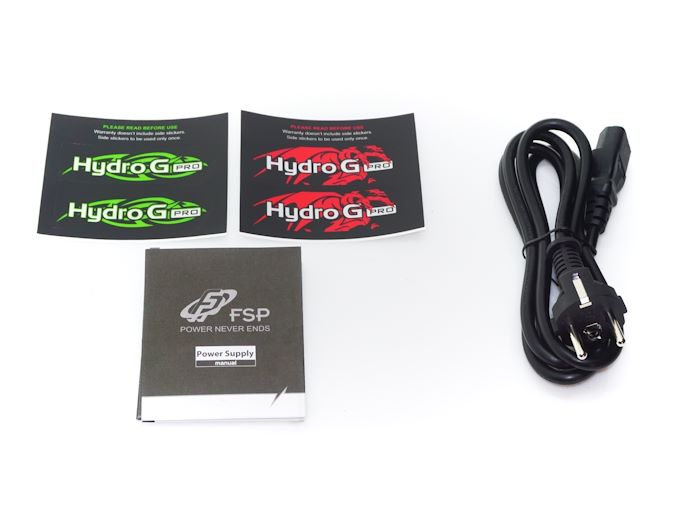 The FSP Hydro G Pro 1000W PSU has a fully modular design, allowing all DC power cables to be removed, including a 24-pin ATX connector. Almost all cables are black ribbons with black connectors. The only exception is the PCIe 5.0 12WHPWR cable. It's also all black, but instead it's a classic sleeved cable.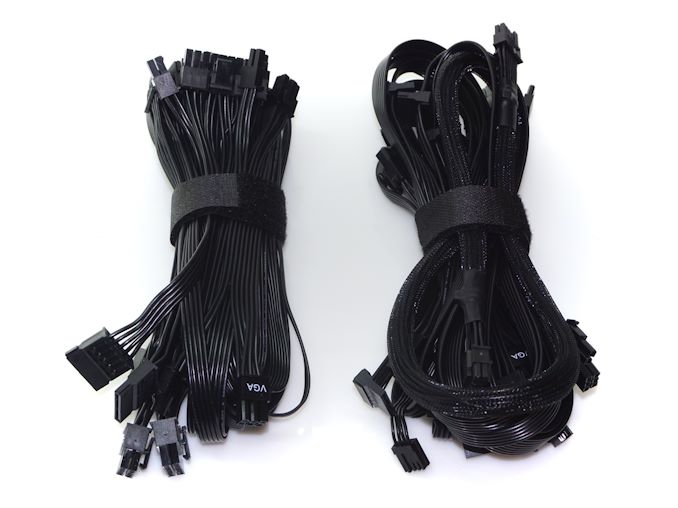 FSP marketers print on the box that the 12WHPWR cable is rated up to "9.2 A per contact on all 12 power contacts". Unfortunately, it's a misleading choice of words, as it implies that all 12 contacts can supply current to the card. Each power contact on the 16-pin connector can actually handle 9.2 A, but 6 voltage contacts and he only has 6 ground contacts. This means the cable has a maximum continuous current carrying capacity of 6 x 9.2 A, fully compliant with Intel's design requirements.
FSP Hydro G Pro ATX 3.0 1000W




connector type

hardwired

base unit




ATX 24 pin

–

1




EPS 4+4 pin

–

2




EPS 8 pin

–

–




12VHPWR

–

1




PCI-E 8 pin

–

6




SATA

–

14




Molex

–

Five




floppy

–

1









FSP Hydro G Pro ATX 3.0 1000W PSU
exterior
The FSP Hydro G Pro ATX 3.0 1000W is fairly compact for a 1 kW unit, with a chassis depth of just 150 mm. Technically it doesn't fully comply with the ATX standard dimensions which limit the depth of ATX PSUs to 140mm, but 150mm doesn't pose a problem for his latest ATX case. FSP sprayed the chassis with textured paint. It is aesthetically pleasing and virtually fingerprint resistant. The fan finger guard is a separate custom part with the company logo in the center.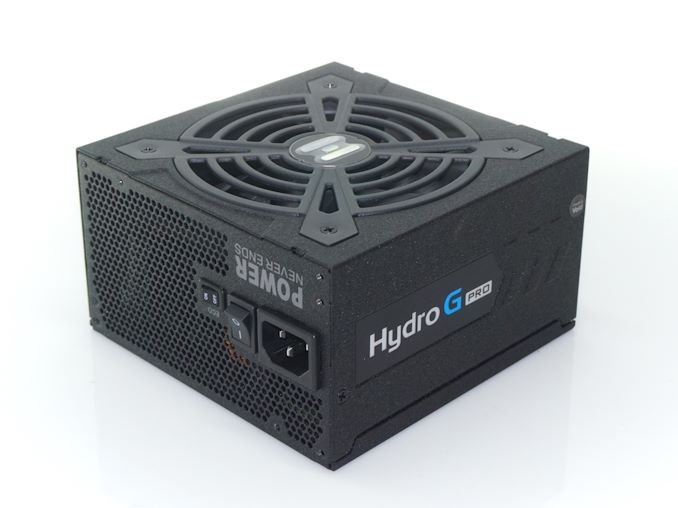 A sticker with the unit's electrical certifications and specifications covers approximately half of the top surface of the PSU. The side of the unit comes pre-applied with a blue-themed decorative sticker that can be replaced with a red or green sticker that FSP will include in the package. The downside here is that once the sticker is removed, it's discarded, making it technically a permanent choice.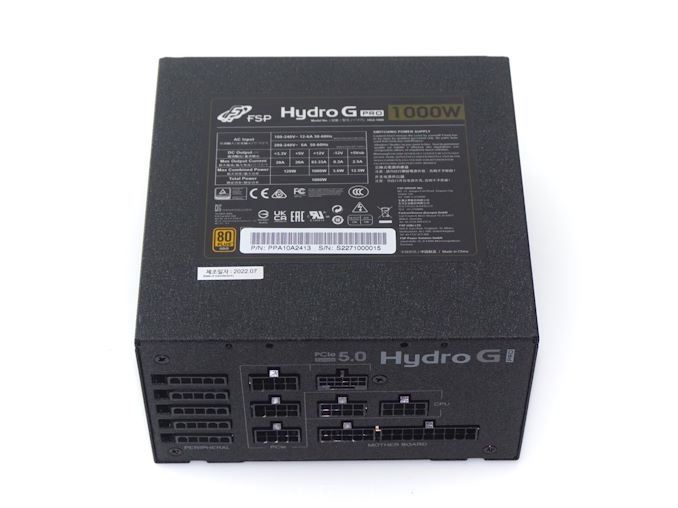 A typical on/off switch is on the back of the unit next to the power connector. Another small switch right next to it controls the "ECO mode" of the cooling fan. When enabled, the cooling fan will stop when the load is less than 300 Watts. The front of the unit has numerous connectors for modular cables. A very subtle legend is printed under each group of connectors and sprayed directly onto the chassis.
internal design
FSP again turned to Protechnic Electric for PSU cooling. Protechnic Electric is the brand that typically handles your PSU's cooling needs. The MGA12012XF-O25 is a 120mm fan with a Fluid Dynamic Bearing (FDB) engine, which has a very high speed of 2700 RPM.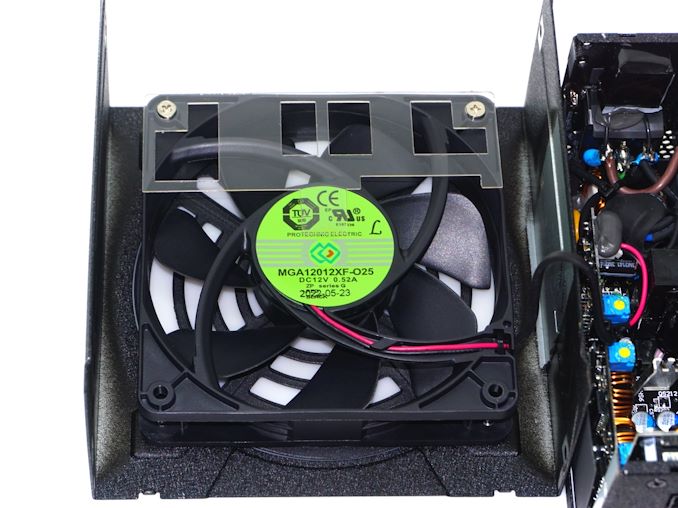 As mentioned above, there is no hidden ODM to discover here. FSP is the designer and manufacturer of the Hydro G Pro 1000 Watt PSU. A quick look reveals that the company clearly aims for simplicity and reliability and is based on today's common topologies and equipment.
The filtering stage is textbook, with a total of 4 Y capacitors, 2 X capacitors, and 2 filtering inductors in a dual input rectifier bridge configuration. Both rectifier bridges have their own heatsink sandwiched between them. The passive APFC components are a large Nippon Chemi-Con 450V/680μF APFC capacitor and a large filtering coil wrapped in a protective foil. Active APFC components are on long heatsinks that run across the edge of the PCB.
Two transistors form a typical half-bridge inverting topology on the primary side of the unit, and six MOSFETs located on the underside of the PCB generate the 12V line on the secondary side of the transformer. The 3.3V and 5V lines are generated through a DC-DC conversion circuit. All in all, this is a very typical configuration for an 80Plus Gold certified unit. All secondary capacitors, whether electrolytic or polymer, are supplied by Nippon Chemi-Con and Rubycon (both Japanese manufacturers).