Gaming PC
A Slightly More Modest High-End PSU
So far, in my continual research into first generation ATX 3.0 power supplies, I've seen many high-end units from both big and small players in the power supply industry. But these flagship high-capacity power supplies also tend to command a hefty premium in the process. For better or worse, power supply vendors expect power supply buyers to shell out a significant amount of money on top-of-the-range models, and it's rare to see cheap flagship units these days.
So what should buyers do if they want a high-end power supply but can't justify the cost of a flagship power supply unit? High-end units are starting to hit the market that offer nearly the same quality without the tag. Often specfied to meet the 80Pus Platinum efficiency level, these high-end units fill a coveted spot between mass-market mid-range units and extremely powerful flagship models.
Tying that into today's review, today we're going to cover one of XPG's high-end designs, the CYBERCORE II 1300W. Compared to the flagship Fusion series PSUs we introduced a few months ago, the CYBERCORE II family is a bit more understated. It's still high-end, but not the $750 power supply. Fusion could have been better, but XPG realizes that the actual demand for such a high-tier product is low, with the bulk of the market elsewhere and here he is in the CYBERCORE II family There will be products like
As the name suggests, the CYBERCORE II PSU lineup is an upgrade to the previous CYBERCORE series that XPG is in the process of replacing. The CYBERCORE II series currently consists only of his two units rated at 1.0 kW and 1.3 kW respectively. In theory, there is little difference between the CYBERCORE II and the Fusion series, most notably the 80Plus certification (Platinum vs. Titanium), the lack of a digital interface, and the reduced number of 12VHPWR connectors (1 vs. 2). Even with some scale reduction, CYBERCORE II still aims to remain highly competitive within the broader high-end PSU market.
But perhaps most importantly, the CYBERCORE II units cost less than half of the respective Fusion units. This makes the series a very viable option for enthusiasts who want a very powerful his PSU but don't have a limitless budget.
XPG Cybercore II 1300W
Power Specifications (Rated @ 50 °C)




rail

+3.3V

+5V

+12V

+5 Vsb

-12V




Maximum output

25A

25A

108.33A

3A

0.3A




130W

1300W

15W

3.6W




total

1300W




80 plus ratings

platinum




AC input

AC100-240V, 50-60Hz




Manufacturer's suggested retail price

$320









packing and bundling
XPG supplies the CYBERCORE II 1300W PSU in a striking red cardboard box. The box itself is very sturdy and the thick packing foam protects the unit during transit. Basic compliance and performance information is printed on the side and back of the package.
The CYBERCORE II 1300W PSU has a fully modular design, allowing all DC power cables to be detached, including the 24-pin ATX connector. The cables are all completely black, with the ATX, PCI Express, EPS and 12VHPWR cables wrapped in nylon sleeves, while the Molex and SATA power cables are bare ribbons of black wire.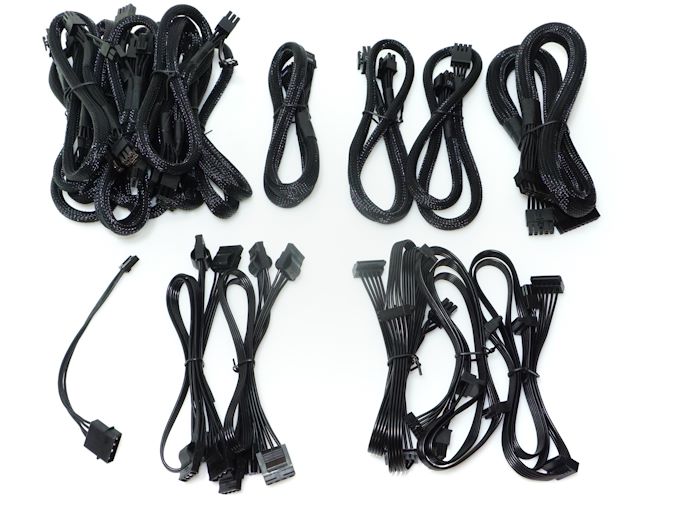 Besides the typical AC power cable and four mounting screws, the XPG also ships with the CYBERCORE II PSU along with some cable ties and a sheet of decorative stickers.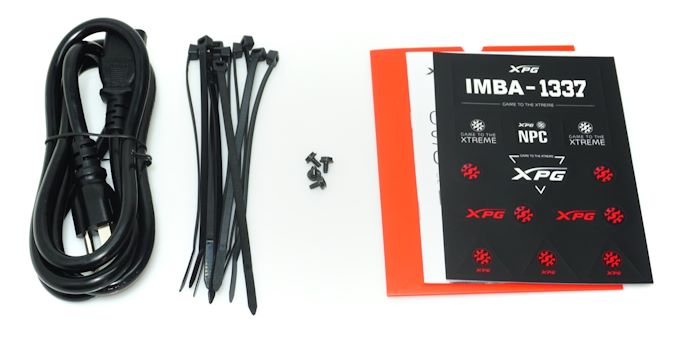 XPG Cyber ​​Core II




Connector type

hardwired

base unit




ATX 24 pin

–

1




EPS 4+4 pin

–

2




EPS 8 pin

–

–




PCI-E5.0

–

1




PCI-E 8 pin

–

Ten




SATA

–

12




Molex

–

8




floppy

–

2









XPG CYBERCORE II 1300W PSU
exterior
Outwardly, the XPG CYBERCORE II barely stands out for its aesthetics. It features a discreet matte all-black design without any flashy changes. Chassis is 160mm long which is a bit longer than what the typical ATX design guide stipulates but it's typical for a high power PC PSU and indeed such a high power he It's very compact for a PSU. A closer look also reveals that the fans are slightly smaller than those used in the majority of high-end PSU designs. If it weren't for the perforated triangular shape and sticker on the side, you could easily mistake this unit for his typical PSU.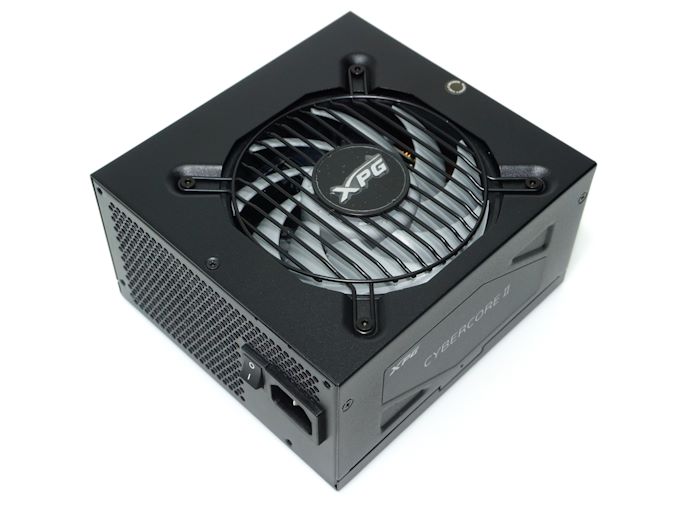 XPG put a large sticker on the top of the chassis listing the unit's electrical specs and certifications. A simple decorative sticker featuring only the corporate and series logos is located on each side of the chassis, between two punched triangles.
The back of the CYBERCORE II PSU is basic, with only a typical IEC C14 power connector and a regular on/off switch. There is a flat surface on which stickers and decorations can be attached, but nothing is attached at the factory. The front of the unit is littered with connectors for modular cables, with EPS and PCI Express connectors taking up more than half the surface area. There wasn't much room for a legend, so XPG drew a basic header directly onto the chassis, with simple lines grouping each set of connectors.
internal design
As we said before, the fan responsible for cooling the CYBERCORE II 1300W PSU is a bit smaller than the 135 mm fan normally used for high power units. However, his 120 mm fan inside the CYBERCORE II is made by Nidec, one of his most respected manufacturers worldwide. This particular model is a dual ball bearing engine fan certified by Nidec for his 60.000 hours endurance at 60°C, which is very good. It has a relatively high maximum speed of 2150 RPM and is partially covered with a plastic shield to manipulate the airflow. A ball-bearing engine and plastic shields increase noise output when the unit is under load. Still, XPG covers these units with a 10-year extended warranty, so they clearly had to focus on long-term reliability.
The OEM that helps create the CYBERCORE II PSU is Channel-Well Technologies, commonly known as CWT. This is the same OEM that developed his first CYBERCORE series, and CYBERCORE II is based on a similar, but not exactly the same platform. The platform is a hybrid of digital and analog controllers, the former controlling most of the unit's primary functions.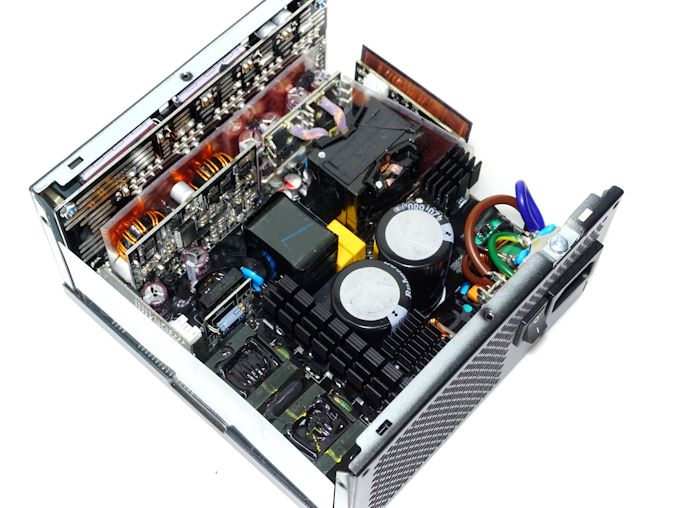 The CYBERCORE II 1300W PSU's filtering stage is a bit more extended than the typical unit, with a total of 6 Y capacitors, 2 X capacitors and 2 filter inductors. There are two input rectifier bridges with their own little heatsink sandwiched between them. The APFC stage is huge, with two Rubycon 420V/680μF capacitors and two large inductors as passive components, each connected to his one converter. According to CWT, the circuit forms two APFC converters working in parallel to improve the electrical performance of the unit. The active components of the APFC circuit are located on large heatsinks at the edges of the PCB.
Four Alpha & Omega TF29S50 transistors form a full-bridge inverting topology on the primary side of the unit. A large transformer output is connected to a vertical PCB with eight On Semiconductor power MOSFETs (5C612N) that generate a 12V rail. The 3.3V and 5V lines are generated via DC-DC conversion circuitry on another vertical PCB right next to the PCB housing the converter. This circuit is an upgrade from the first version of the CYBERCORE series. Multiple shielded copper strips can be found around the PSU, providing both electrical and electromagnetic isolation between high frequency components. Rubycon and Nippon Chemi-Con supply electrolytic capacitors, while FPCAP and United Chemi-Con supply all polymer capacitors.