Gaming PC
IOGEAR Introduces USB-C Docking Solutions and Matrix KVM
IOGEAR has been serving the computer accessory market with docks and KVM for over 20 years. In addition to common use cases, the company creates products that target niche segments with feature sets not available in products from other vendors. At CES 2023, IOGEAR will reveal a number of USB-C docks that will be introduced over the next few quarters.
Docking solution
The three new products in this category fall into two categories. The first two use the Display Link chip with traditional USB-C Alt mode support. A port on a regular Thunderbolt 4 / USB4 dock. The table below summarizes the key aspects of the three new products.
IOGEAR USB-C Docking Solution @ CES 2023 (Dock Pro Series)




Universal Dual View Docking Station

Duo USB-C docking station

USB4 8K Triple View




Model name

GUD3C4K2TAA

GUD3CDHTAA

GUD4C8K3




upstream port

USB 3.2 Gen 2 Type C

2x USB 3.2 Gen 2 Type-C (dual host support)

USB4 Type-C (40Gbps)




audio

1x 3.5mm combo audio jack

1x mic input
1x speaker output

1x 3.5mm combo audio jack




USB-A

2x USB 3.2 Gen 1
1x USB 3.2 Gen 1 (12W charging)

2x USB 2.0
2x USB 3.2 Gen 2

2x USB 3.2 Gen 2
1x USB 3.2 Gen 1




USB-C

1x USB 3.2 Gen 2

1x USB 3.2 Gen 2

1x USB 3.2 Gen 2
2x USB4 (40Gbps in DP Alt mode up to 8Kp30) downstream




networking

1x GbE RJ-45

1x GbE RJ-45

1x 2.5GbE RJ-45




card reader

–

–

1x SDXC UHS-II
1x microSDXC UHS-II




display output

2x HDMI 2.0a
2x DisplayPort 1.2a
(all via DisplayLink chipset)
(up to 2x 4Kp60 output)

2x Display Port 1.2a (4Kp60) (via DisplayLink chipset)
1x HDMI 1.4a (4Kp30) (via DP Alt Mode)

2x HDMI 2.1 (up to 8Kp30)
2x Display Port 2.1 (up to 8Kp30)
(all via DP Alt mode)




Powering the host

USB PD 3.0 (up to 100W)

Up to 100W per host (200W total)

USB PD 3.0 (up to 96W)




power supply

External 150W @ 20V/7.5A

External 230W

External 150W @ 20V/7.5A




Size

91mm×70mm×17mm

219mm×88mm×32mm

225mm×85mm×18mm




release date

March 2023

June 2023

March 2023




Manufacturer's suggested retail price

$250

$300

$300









The Dock Pro Universal Dual View Docking Station is a premium DisplayLink-based dock capable of driving up to two 4Kp60 displays, each with a choice of HDMI or DisplayPort.
The dock also includes host power delivery support and the port distribution is shown above.
The Dock Pro Duo USB-C Docking Station is ostensibly a USB-C dock, but incorporates features typically found in KVM. This allows two systems to be connected to the dock at the same time and the push buttons on the front can be used to switch between any of the four display modes as shown in the image below.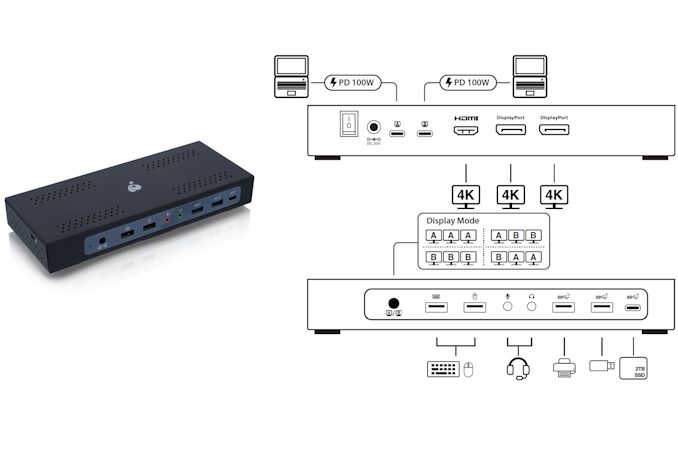 The push button configures one of the two hosts into a DisplayLink chain (behind the two DisplayPort outputs). All peripheral ports are visible to hosts attached to that chain. At the same time, the HDMI port remains active with Alt mode display output from other hosts. Use hotkeys to switch between viewing modes for easy multitasking. This is a revolutionary combination of docking and KVM that we haven't seen with any other vendor yet.
Finally, we have our flagship USB4 / Thunderbolt 4 dock, the Dock Pro USB4 8K Triple View. It has all the features you need in a TB4 dock, including downstream USB4 ports and 8K support.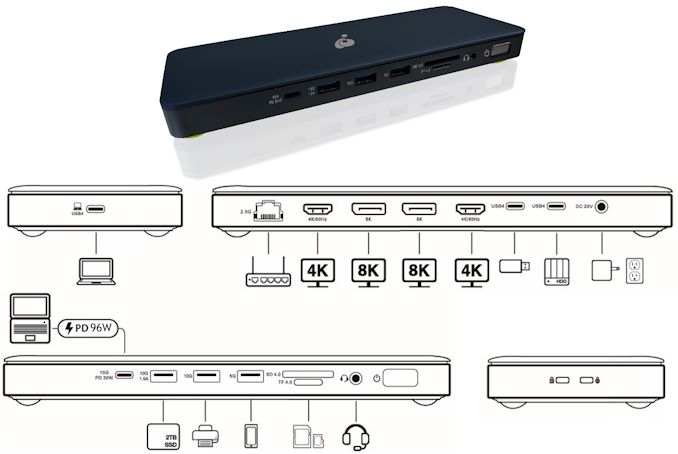 Surprisingly, the price is very reasonable at $300. Bypassing the Thunderbolt certification probably helped keep the price down. Despite being priced similarly to the Plugable TBT4-UDZ, this product may appeal to a different audience thanks to the availability of downstream ports. However, this product will only ship towards the end of the quarter.
KVM solution
IOGEAR also announced the GCMS1922 2-Port 4K Dual View DisplayPort Matrix KVMP with USB 3.0 Hub and Audio. KVMs that support 4Kp60 like this typically cost $500 or more. This is no exception with an MSRP of $530. However, at this price point, IOGEAR incorporates a number of interesting features. KVM can operate in either matrix mode or extended mode. In the latter one computer drives both display outputs, in the former each host drives his one display. In matrix mode, KVM also supports crossover switching by moving the mouse pointer (in addition to KVM's usual physical buttons and hotkeys). Audio mixing support (that is, keeping the audio output of the "disconnected" host active as well) is also available, allowing you to monitor notifications from both computers without switching sources.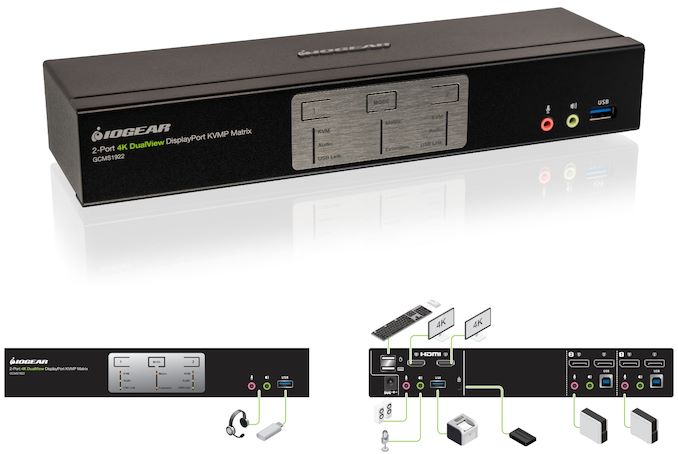 The KVM offers two USB 3.2 Gen 1 ports and two USB 2.0 Type-A ports for downstream peripherals, along with separate audio jacks for speakers and microphones. It should be noted that the display output is HDMI while the input is DisplayPort. KVM switches are expected to be available later this quarter.
In addition to these upcoming products, IOGEAR will also: KeyMander Nexus Gaming KVM and the meklite nano A compact USB/wireless keyboard was exhibited. These products were introduced to the market last year.