Gaming PC
SilverStone Sugo SFF Case Supports Quad-Slot GPUs
SilverStone has taken full advantage of one of the most famous SFF chassis series at Computex this year. The latest iteration of the SilverStone Sugo chassis breaks the segment. 23.5 liters, the company's own SFF definition is 23 liters or less. But for those who don't mind the extra half a liter, the Sugo 17 has a lot to offer in terms of being loaded with the strongest components available in 2023.
One of the main standout features of the new Sugo 17 is GPU support. The average reader shouldn't be unaware that the latest generation of graphics cards from AMD and Nvidia are blowing up the dimensions of mid- to high-end GPUs. So, SilverStone's Sugo 17 supporting quad-slot GPUs will be very welcome for power users.
An image of SilverStone Sugo taken in the halls of Computex shows that the company has one of the latest and greatest GeForce cards installed, with room to spare.
Another aspect not to be missed in the unpaneled image is the array of other fans housed in the chassis. According to SilverStone, the Sugo 17 can mount 360mm radiators on the top and sides, but you can also add six 120mm case fans. In this photo it looks like it has one radiator on the side for CPU cooling and three of his 120mm case fans on top.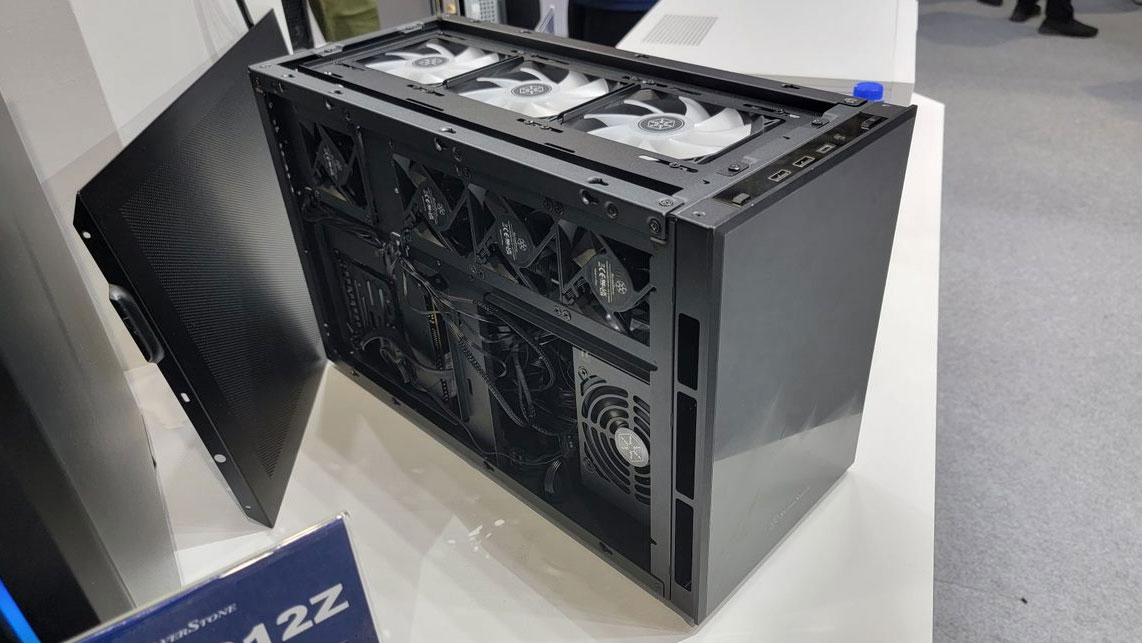 Looking at the other side of the open case, we can see four 80mm case fans at the top of the case. These fans are meant to quickly expel hot air from your GPU through the case vents. Thanks to this design, SilverStone believes that even the GeForce RTX 4090 can run at full speed within the SG17 range.
Another great thing about the new Sugo 17 is that buyers can choose to install a full-size ATX power supply. Opening this option is a smart choice considering capacity and cooling that encourages users to equip them with the most powerful CPUs and GPUs.
I also noticed that SilverStone claims the Sugo 17 is both Micro-ATX and Mini-ITX capable. According to the company's product page, the Sugo 16, Sugo 15 and Sugo 14 were all limited to Mini-DTX and Mini-ITX options, so this generation will have even more motherboard options. It might seem like anything could be done just by increasing the size/capacity of the chassis, but 23.5 liters isn't that big compared to the previous generation. Indeed, the Sugo 16 he was relatively small at 13 liters, while the Sugo 15 and Sugo 14 were both over 19 liters.
SilverStone is probably best known for their SFF PC cases, but they also sell a large selection of large cases, cooling accessories, and power supplies. Computex Week featured the revolutionary IceMyst AiO cooler with directional fans, and we took a closer look at the intriguing Alta F2 Premium Super Tower Chassis in the same article.